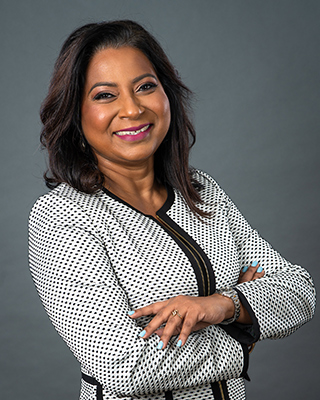 Ariane S. Ramnath
Partner
Practice Areas
Intellectual Property
Admission
Attorney-at-Law, Trinidad and Tobago – 1998
Qualifications
Bachelor of Law, University of the West Indies.
Legal Education Certificate, Hugh Wooding Law School
Post Graduate Diploma in International Relations, University of the West Indies
Areas of Concentration
Trademark Filing, Prosecution and Due Diligence
Trademark Oppositions and Cancellation Proceedings
Anti-Counterfeiting
Trademark Infringement and Enforcement of IPR's
Experience:
Ariane joined the firm in 1998 following her admission to practice and specializes in Trademark Filing and Prosecution in Trinidad and Tobago as well as the Caribbean and Latin American regions.
She has extensive experience in contentious intellectual property matters relating to Trademarks including anti-counterfeiting and enforcement, trademark infringement and passing-off, as well as opposition and cancellation proceedings.
Ariane manages the Trademark portfolios of several large multinational and regional conglomerates spanning various territories, advising her clients on all aspects of Intellectual Property.
Earlier this year Ariane achieved certification from WIPO (World Intellectual Property Organization) as a trainer for the National Intellectual Property Training Centre of Trinidad and Tobago recently commissioned by WIPO.
Ariane is a member of the Law Association of Trinidad and Tobago, ASIPI (Inter-American Association of Intellectual Property), AIPPI (International Association for the Protection of Intellectual Property), IPCA (Intellectual Property Caribbean Association). She is also a member of INTA and currently serves on the Famous and Well-Known Marks Committee and is the firm's representative member on the Trinidad and Tobago Chamber of Commerce as well as the American Chamber of Commerce of Trinidad and Tobago.
Ariane has published several articles on trademarks and is the Contributing Author of the Trinidad and Tobago Chapters of INTA Trademark Oppositions Guide and the INTA Country Guides.