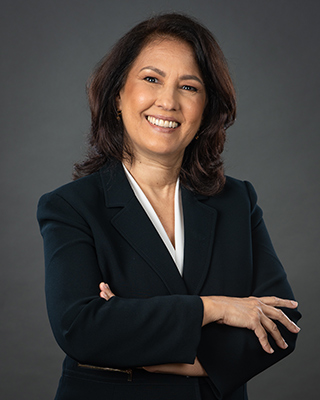 Alana R. Haqq
Consultant/Notary Public
Practice Areas
Real Estate
Estate and Succession Planning
Qualifications
Bachelor of Laws, University of the West Indies
Legal Education Certificate (LEC), Hugh Wooding Law School
Admissions
Attorney-at-Law, Trinidad & Tobago – 1987
Experience:
Alana joined the firm in 2021 bringing over 34 years' experience in law, management and other disciplines. She has worked extensively in the area of real estate, property and estate management and commercial enterprise development. She has been instrumental in the establishment of several land, condominium, resort and integrated developments in Trinidad and Tobago and has been involved in international property sale, leasing and purchase transactions, particularly in the United States, Canada and Central America.
Alana's experience in the corporate arena included a portfolio of several local and international corporations. As general counsel, she supervised the administration by external counsel of litigation, intellectual property and financing transactions and formulated a range of commercial documentation. She also gained keen insight into the compliance laws of various jurisdictions.
In the field of management and industrial relations, Alana's organizational skills have enabled her to establish structure and create systems for effective work flow and optimum productivity. She has encouraged and supervised employer – employee negotiations and acted in the capacity as mediator in a variety of interpersonal conflicts. Her work in this area has led to the development and implementation of practices and procedures for progressive discipline, fairness in workplace relations and career path planning, implementation and development.
Alana is fluent in Spanish and French and is a member of the Law Association of Trinidad and Tobago.